Reading Time:
5
minutes
Intro to Type 7
A few weeks ago, I got great feedback on my article Enneagram Type 5 vs Enneagram Type 4. Everyone enjoyed it, and everyone complained that it was too long. So, this week I am breaking up the normally almost 2500 word blog posts into several 300-500 word posts. If you liked the long version, don't worry I will release it at the end of the week. Since I am breaking up the posts into bite-size bits, you might want to check this one to get a better introduction into the series. Now here is the pain between a Enneagram Type 7 and Type 5 as we explore a trap.
Type 7 Hurting: Trapped
There isn't many who can slow down an Enneagram Type 7, but Type 5's sure can. Type 1's do it through fear of reproach, and Type 9's might do it through peacekeeping, but Fives are the best wet blanket to the Type 7. Enneagram Type 5's while often unfamiliar with emotions are usually acquainted with negative emotions. They can use their walls to slow the Type 7 down enough to face their emotions. Then instead of allowing the Type 7 to escape, we can help create walls around the Type 7, so they can't escape. Traps expertly designed so that you walk right into it all on your own, so we aren't necessarily trapping you. You are trapping you.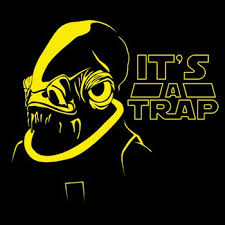 The worst thing you can do is trap an Enneagram Type 7. They hate the lack of options, choices, and openness. Few are better equipped to deliver the trap than a Type 5. Here is how it works.
Woven Traps
So I don't know that I have ever trapped a Type 7, but my wife takes on Type 7 attributes in health. So she hates being trapped and you can just imagine how much worse it is for a Type 7.
Here is the general breakdown of the Type 5 trap. We are generally tired and frustrated or have nothing left to give, and the only way out is to trap the other person. I don't mean physically. I mean logically or emotionally.
How this goes in a relationship fight is you learn the major concern and then demonstrate how they are the cause of the concern. The way you show them they are the cause is that you own part of the problem early and then slowly walk them through their habits, choices, and priorities that they have already claimed. Then you logic them right into the problem from those values. Usually demonstrating how they are acting inconsistent with those values or how those values lead to the current problem. Then you get out. By logically walking someone through their own choices and actions after owning your part you can trap them with themselves. So, we can go back behind our walls.
The Impact
I can tell you from experience this a cruel thing to do to anyone. You can make them doubt themselves, doubt you, doubt everything. Fortunately, my wife and I have the relationship to work through these traps that I have set, often unconsciously. However, an Enneagram Type 7 breaks in this manner of cruelty. Trapped with only themselves and their own negativity is a worst-case scenario for the Type 7. This is how you burn bridges and ruin relationships and the worst part is you make it seem all their fault. Fellow Type 5's, our objectivity affords us some great vantage points of every situation, but we need care for when we are stressed out we don't set traps for others to escape the situation. We need to be especially mindful of our Type 7 friends because we can do some lasting damage
Fellow Type 5's, our objectivity affords us some great vantage points of every situation, but we need care for when we are stressed out we don't set traps for others to escape the situation.
Click To Tweet
Type 5 Hurting: Left Out
The great thing about Enneagram Type 7's is also the worst for us Type 5's. While most of us need a good shell breaking, what happens after is equally important. Type 5's are not known for our speed in anything other than analysis. Our relationships take longer to develop. Our emotions take longer to identify, and our willingness to jump in takes far longer than it should. For a Type 7 who wants the fullness of life, waiting on a Type 5 can be miserable. When a Type 5 finally goes, it is too late. We get left behind and left out. This sucks. Even worse, the Type 7 doesn't normally mean to leave us out, so it's all our own fault for being slow. 
The logic of knowing it's our own fault doesn't help alleviate the feeling. Often it resolves us to be better prepared for next time or into better observation so next time doesn't suck. The other side is that it makes those walls we hide behind stronger. The real problem is it usually becomes a self-perpetuating cycle in both ways. Stronger walls equal less prepared and even slower to react which equals getting left quicker. Better prepared may mean a quicker initial response, but have you heard of anyone being prepared to be super fun? Super helpful or interesting sure, but prepared is also kind of lame. That means you are probably going to get left either to have different fun that you weren't prepared for or because you are the parent-wet blanket.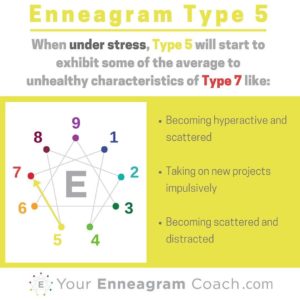 Enneagram Line Type 5 to Type 7: In Stress
Enneagram Type 5's pick up the negative traits of Enneagram Type 7's in stress. So when Type 7's are in negative space they speed up moving from activity to activity, faster and faster, avoiding fear more and more with more and more. Type 5's who are unhealthy will often exhibit these same behaviors.
Think about the genius billionaire playboy archetype from comics. You know he is smart, emotionally withdrawn, but he is running around like a lunatic hitting every bar he comes across trying to live it up. We know the truth is that he is running from some sort of stress, maybe the stress of running the next corporation, life failures, or home life. That is the negative side of seven, the running without end. We Type 5's know how to rock the escape route just like a Type 7. Think about the trap I mentioned earlier. The trap is an escape route with Type 5 flair, just running from the negative, to protect ourselves.
The real world
We can't all be billionaire playboys, so here is how I experienced this, and I imagine many Type 5's are similar. In 2013 the company I was working at closed. I couldn't find another job, but I was applying to medical school, so that was alright because I could get started and prepared for that. Except, I didn't get into medical school. So I have 4 degrees, no job, and no direction. I was trapped.
What does a Type 5 do? Learn a new skill or two or five. I started by trying my hand at consulting firms. Yes, I got a few gigs but nothing lasting. Then I tried programming, I learned Python and some Java. Never got a job there. Then I tried videogame streaming. I hope those videos no longer exist but I sure they do somewhere. Then I wrote a book. Like what type of skills does one need to write a book, apparently time and Type 5 nerdiness. I jumped from thing to thing to thing changing entire careers over the course of a few months.
I stressed out trying to figure out a way to provide for my family. Never figured it out either, but I finally got out of the stress zone and settled into the writing zone. I picked a singular focus and stuck there. Sometimes my writing subject might seem a little disjointed, but that is only because I get stressed and just jump to the next thing too early. I grab those Type 7 traits and head for the next "fun thing." 
I grab those Type 7 traits and head for the next "fun thing."  #enneagram
Click To Tweet
Advice
So if your Type 5 friend or family starts jumping around from thing to thing, what they need is to slow down and get some help. Treat us with some of the same sensitivity of an unhealthy Type 7. What we don't need is someone to feed the stress or encourage the jumps around. We are not Type 7's the jumping is not natural. It is, for us, unhealthy.
Tune in tomorrow for the finale of the Enneagram Type 7 week.