Reading Time:
9
minutes
Enneagram Type 6
Welcome to the sixth long post in my Enneagram Series: Type 5 vs The Enneagram. This week I am covering my experiences with an Enneagram Type 6. You can find the first week link here and sign up for Enneagram related news from me on the right or more general news on the left.
Series Intro
Hi! My name is Jacob Pannell. I am not an Enneagram expert. I am a me expert, and me is an Enneagram Type 5 with a 4 wing and a self-preservation subtype. Earlier this year, I wrote an article on my discovery on the Enneagram (here). It has since become my most visited article this year. Many people have reached out to tell me how much that article helped them. Some even asked me to write more for them, so I am. After a little time of reflection and research, I realized that I couldn't write about the Enneagram with the substance many of the coaches, authors, and mentors can.
So, I asked myself, "why did my article resonate with people?" I think it resonated because I wrote about me. I wrote about my experience as a Type Five. Many people have trouble connecting with their Enneagram Type because it is talked about in such broad strokes that a natural disconnection exists. I am not talking in broad strokes when I talk about my Enneagram Type 5. I am talking with personal detail. Sure, this limits my approach, but I also think it is much more identifiable. It also makes it easier to take or leave certain aspects of my Type 5-ness.
My experience as an Enneagram Type 5
So, here is the deal: I am going to write about my experience as an Enneagram Type 5 vs. the other Enneagram numbers. This means that both my experience of the other numbers and my own experience is limited. Take it or leave it. It's my truth. Each article will contain an introduction to the Enneagram Type, how we help each other, hurt each other, and a parenting thought. Finally, I want to wrap up by helping you to imagine your relationships in your life. What has my article helped you see, understand, or change within yourself? Imagination is the key to success from these articles because there are no cookie-cutter solutions because there are no cookie-cutter people.
Here is the additional reading for you other Type 5's with the itch to research more.

Enneagram Type 6: The Loyalist
Enneagram Type 6's are known as the loyalists. As a fellow member of the fear triad, our fear is what unites and divides us. Whereas Enneagram Type 5's seek freedom from fear through knowledge, Type 6's do it through loyalty to another person or idea. While you might think this makes them very sheep-like loyal to the master, they will show you quite differently. They are more loyal to the idea of the person they are following or seeking relief from fear. If you turn out not to be that idea (a fake or phoney), then they will challenge you until you reach their ideal or they become the ideal themselves.
Whereas Enneagram Type 5's seek freedom from fear through knowledge, Type 6's do it through loyalty to another person or idea.
Click To Tweet
Type 6's spend the most time in fear of all the Enneagram Types. They work the hardest to be prepared and your average doomsday prepper is most likely an Enneagram Type 6. The Type 6 is often in such a state of fear they can imagine, see, or even feel through the emotions of things that haven't even happened yet. This happens especially with the people they love the most. Because of this fear, you will find they keep their circles small. Count yourself lucky if you end up inside a Type 6's circle. They tend to love most fiercely and devotedly of the Enneagram Types.  
With a Type 5
Enneagram Type 6's are some of my favorite people, especially when they wing 5. Though when they wing 7, they are pretty great too. They Type 6's I know have some of the best conversations because unlike Type 5's where things remain at the surface, Type 6's know how to get into their emotions. They are capable of asking and answering more probing questions. The questions that get to the heart of who someone is. The 5 wing keeps them curious and the 7 wing keeps them fun.
Type 6: Healed – Answering Question
Enneagram Type 6's will fight fear with a variety of loyalties, but many will find a loyalty to thinking to extremely helpful. Thinking allows them to plan through fears. Enneagram Type 5's are best suited to this endeavor because we enjoy thinking through things. Listening to a Type 6 think through their fears is part of who we are. We can work through our fears together, and it provides us the chance to gather knowledge while providing the Type 6 some logic and decisiveness. 
As Enneagram Type 5's fight fear with knowledge we bring that security to a Type 6. We don't guess (for the most part). We know. There is something incredibly comforting for a Type 6 to run into a healthy Type 5 because we have access to the kind of decisiveness of an Enneagram Type 8. However, our default position is to listen. So we listen, providing a comfort of presence and then we decide because we have all the information. In my experience, there is little more that I can do for an Enneagram Type 6 than presence and decision.
My Sister-in-Law
The first time I got to spend time just me and her with my sister-in-law, I repeatedly tried to strike up a conversation. It isn't easy for me because I am an introvert, but that's the kind of thing you do when your family. I got nothing because she just wanted to sit together doing separate things. It was awesome! I am sure my brother and wife (both extroverts) would have died of silence. The best thing for us to build our relationship though, sitting quietly together just being in the presence of one another. Now, we have a great relationship where we can talk or just be with one another.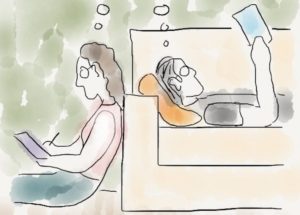 Type 5: Healed – Asking Questions
There are few people for me to ask my questions too. No one is that interested except Enneagram Type 6's. Everyone else gets bored with my questions and rabbit holes. Even other Type 5's will redirect the conversation with a question of their own. An Enneagram Type 6 though, will ask a follow -up question and that's when the real fun begins. Usually, they want to know more because it can help them combat fear, and what I know gives them security, and a continued conversation gives them presence. All of this breaks down my walls in the kindest of ways.
I am convinced Enneagram Type 6's are the best question askers because they are so inviting when they do it. I don't think anyone likes to answer questions better than a Type 5. However, we are terrible about reaching toward emotional answers. Type 6's are great at guiding us there. This builds the kind of loyalty in a Type 5 that Type 6's often exhibit, and it's really healing. It takes the weight of the world off my shoulders.
The 30-Second Rule
I tend to over-explain things. So, if you ask me why something is the way it is I would prefer to start my answer somewhere way back in history (usually ancient Egypt because most people are mildly familiar with ancient Egypt). My wife had had enough of that, and she could tell most of the people I interacted with had enough too, so after a few months of marriage, the 30-second rule was instituted. The 30-second rule is a rule where I have to answer someone's question in 30 second or less and then stop talking. If they ask follow up questions then I am allowed to speak more. Unfortunately, most people only want the less than 30 second version of information, and I have come to accept this… sort of… not really… ok, I struggle with it a lot sometimes.
Unfortunately, most people only want the less than 30 second version of information, and I have come to accept this… sort of… not really… ok, I struggle with it a lot sometimes.
Click To Tweet
An Enneagram Type 6 almost always asks a follow-up question if they can. They are the best! I can't explain why it's so liberating to be able to share my knowledge with someone, but it just is. I started a blog to basically do just that. Because I the 30-second rule, I also understand how kind it is to be asked the follow up question, and I think I am even more respectful to the person who does ask the question. It creates a bond that heals us.
Type 6: Hurting: The Energy Drain
While the questions that an Enneagram Type 6 are often the best, they can also take it too far. The need for security can be exhausting when you are trying to give security. It's even worse when the fear gets transferred. Since the Enneagram type 5 and 6 are both in the fear triad the fear gets transferred more easily. That fear getting transferred occurs through an energy drain that all the knowledge of a Type 5 cannot defeat. 
The Enneagram Type 6 in stress exhibits Type 3 tendencies. That means extra busy-ness, increased forcefulness, and a stubbornness to new approaches. All of which will wear a Type 5 out. Once we are worn out the fear can be transferred and we get either frantic in avoiding the fear like a Type 7 or we fight the fear (and usually the person) like a Type 8. The point is both of us move into combustible energy when we are down and that makes for some explosive encounters. Those encounters all stem from the energy drain that is our fear.
Type 5: Hurting
The worst things Enneagram Type 5's can do to Type 6's is to be disloyal. Type 5's are not generally disloyal, rather because of their walls they are never particularly loyal. This means that we rarely fully invest in relationships. We rarely fully invest in ideas because there can always be new information. Finally, each question can have multiple answers depending on the perspective and situation and desired outcome.
Type 5's lack of need for security in the information and thinking is distressing to many Type 6's. But the hurtful piece is when we walk away from relationships. The Type 6 invests in us, but for many Enneagram Type 5's we struggle to match that investment. The walls we have in our lives keep us from investing because they also keep us from pain. So, we can leave relationships at any point, and may even do so, in immaturity, without even considering the other person. This feeds the worst parts of an Enneagram Type 6 because it confirms their fears and makes it harder for them to find that security and place loyalty with the next person.
Type 5's are not generally disloyal, rather because of their walls they are never particularly loyal.
Click To Tweet
Parenting Tip: Boundaries
Kids need boundaries. Usually, the first time they hit one they don't like it, but if you are consistent over time the boundaries end up helping them understand not just who you are and the rules of the house but who they are. Boundaries make space for people to determine who they are and how they fit in. Without boundaries there isn't a space for self-determination, there is only unlimited non-defined space. That wide-open space decreases security especially for kids. They can't determine who they are, who they would like to be, or how they fit into this world. Imagine playing a game with no rules. How do you win? How do you play? That's what a life without boundaries is, a game that you can't win.
Enneagram Type 6's need boundaries. It helps all of us find the purpose, the rules, in the world. Boundaries give them the security they need to at least make sense of things going on. Then they can use the rules to prepare for as many possible outcomes as they can. Losing is ok sometimes if you see it coming and know how it happened. It isn't debilitating when you understand the rules and can attempt to change the outcome next time. For the Type 6 kid, they aren't afraid to analyze a loss, but they are going to want to know how to do better next time. They can only do better once they know the consistent boundaries.
Enneagram Type 6's need boundaries. It helps all of us find the purpose, the rules, in the world. Boundaries give them the security they need to at least make sense of things going on.
Click To Tweet
Time-outs
My son desperately needs boundaries. He needs them so much that he likes to ram into them full speed just to test them out. But, after time-out we sit down to talk about what went wrong, why it went wrong and what boundary he pushed – typical after-action report stuff. 9/10 when he hits a pre-set boundary he walks away happy and ready to play after remorse and explanation of what went wrong and why it did. Most of the time he doesn't hit that boundary again (for a little while at least – he is still at toddler).
Lately, we have been working on a mushy boundary, disrespect. It isn't that we (my wife and I) aren't disciplining or enforcing a boundary, but respect pours out of emotions a lot of times and emotions are a lot harder to control than not touching the hot stove. Understanding the importance of respect is a hard concept for a toddler, so we work with him alot on it. 
The reason is it strikes to the core of why we discipline. We discipline so that he can have the opportunity for good relationships. We don't want him burning bridges in a toddler tantrum. As he has gotten older things like hitting have already gotten taught out of him, so now we work on the deeper things. The old rules stand but now we have to help him figure out who he is, and how to work with other people whether they are adults or his friends. We give him the gift of a secure ground with well-defined boundaries to find his own answers to these harder questions. That is a deeper security that many Type 6's need or crave.
Imagine
I see Enneagram Type 6's as some of the most capable people to bring out the best in an Enneagram Type 5. However, I also see Type 5's and the most capable to bring out the worst in a Type 6. This dichotomy doesn't have to be the case though. We can work together in a unique and powerful manner that supports each other. Type 6's can find a security in the knowledge of the Type 5, and the Type 5 can learn the discipline of loyalty from the Type 6. For my experience, I imagine great friendships that break down walls and barriers between all sorts of people. Type 6's can soften the walls finding common ground and generating loyalty while the Type 5 can strike with the harder hammer of pure logic and knowledge. More Type 5's need to be willing to team-up with and empower Type 6's to see their true potential as people who can bring people together over common ground and common loyalty supported by common knowledge. Imagine if Type 6's broke down walls between people like they are so adept at doing for me the Type 5.
Check out this article written by an Enneagram Type 6 to understand more.
Type 6's can soften the walls finding common ground and generating loyalty.
Click To Tweet