Reading Time:
6
minutes
Introduction
Hi! My name is Deidra Ezelle. I met Jacob Pannell through my beloved Husband, Matthew. The night before my wedding as our closest friends and family who were brave enough to face the high altitude Colorado winter to witness our union ate dinner, Jacob and I talked almost the entire dinner about something I had never heard of, the Enneagram. A few months after our wedding my husband and I decided to listen to Ian Morgan Cron and Suzanne Stabile's The Road Back to You, where I very quickly pegged myself as a type 6. Now to echo a sentiment from Jacob's blog, "Enneagram Type 5 VS. Enneagram Type 1," I am not an expert on the Enneagram, but I am an expert on me. So I am going to tell you a little about what it is like to live as me, a type 6 with a 5 wing.
Type 6: Growing up in Hind-Site
Sixes on the Enneagram are part of the fear triad and motivated strongly by a sense of security.
"Sixes see a dangerous world in which disaster can strike at any moment. Appearances are deceiving. People have hidden agendas. They keep their eyes peeled for possible threats and mentally rehearse what they will do when the worst happens."

The Road Back to You
Well, I have never read single quote so descriptive of myself at my core than this one from The Road Back to You. You might initially imagine us as scared and cowering people at the beginning of that statement, but when you get to the end you may begin to imagine type sixes being responsible for every safety guide and emergency response system you have ever had the misfortune to need.
For example, last week my husband and I were on a backpacking trip where we came across a group of hikers who had lost one of their party. I immediately asked for name, age, gender, physical description, and clothing. After we left them I dove right into what our emergency plan would be. Of course, as ICU nurses and backpackers, we have emergency medical supplies. I ran through in my head what supplies we could give him if he simply needed support. I also made a plan with my husband that if we found him injured, I would stay with the patient and my husband would hike out for help since he is taller and faster. Now all of this was complete overkill because the hiker got separated from his group south of where we met the group. We were going to turn north at the next fork.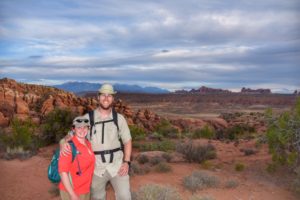 An Example of Early Fear
Beginning at a very young age I questioned existence and its purpose intensely. I use to spend some of my alone time in my elementary years simply sitting still and trying to imagine what it would feel like to not exist. Now, I see that meditative challenge as an early manifestation of my personality type. With limited life experience at that point, simply not existing was the most obvious worst-case scenario. That thought turned into a sort of preoccupation with mortality. I quickly became afraid of people I loved dying. I can remember waking up and sneaking into my parent's room just to watch or hear them breathe. Not creepy at all, right? Unfortunately, as a six this is a self-perpetuating fear because, of course, they will die and likely before I do.
Type 6: Security
Now there are more fears that developed in my life as I grew and most were centered around the concept of security. Jacob refers to Type 5s as, "knowledge hoarders." When you really break it down, you could call me a security hoarder. Now don't start worrying. I know you are still thinking of that creepy image of me as a child staring at my parents in their sleep, but I am not a sociopath. I am not planning to steal anyone's identity to gain their social security. Ok maybe that isn't my best joke, so I'll get back to the point. I think you can broadly group the kinds of security I would hoard into three categories: physical, financial, and emotional.
Jacob refers to Type 5s as, "knowledge hoarders." When you really break it down, you could call me a security hoarder. #enneagram6
Click To Tweet
Physical Security
Because sixes are naturally skeptical, it is not enough to have security. I need to know that it will last. If I were a three little pig, I would definitely be the one with the brick house. Now, this can get in my way in life. My need to be physically safe and secure can conflict with my adventurous nature keeping me from attempting anything too dangerous even if I could be great at it.
For example, I was a recreationally competitive figure skater when I was younger. I could have progressed in my skating skill much faster than I did, but I wouldn't even attempt the jumps until I was sure I could land them. This is why I have never attempted and axel. I could land them in tennis shoes on dry land, but at less than 50%, and I just couldn't attempt it with knives strapped to my feet on those kinds of odds. If you have a six in your life this conflict can be a major blow to our confidence. On the positive side of that caution, I have never broken a bone other than a tooth.
Financial Security
Financial security is pretty straight forward. Get a good education, get a good job, buy a modest house, pay the bills, live happily ever after. Perhaps that is how it goes for a six born in the perfect family with the perfect income to suit a six. But the world isn't perfect, and sixes are adept at noticing that. My parents divorced when I was 9 years old, and sometimes finances were limited.
As a six, I noticed how I kept all the money anyone ever gave me. My mom would call me a squirrel. I once kept her at Wal-Mart begging me to make up my mind for an hour over a keychain with a stuffed lizard that cost a whopping one dollar. Now I'm sure you are mildly amused over that scene but imagine being my mother that day. On the upside of all this, the sixes in your life can be very resourceful with money. I am currently working as a Registered Nurse in a Surgical Oncology unit making the same amount of money as my husband whose degree cost is somewhere in the 6-digit range with my less than $20,000 degree.
Now just because sixes value financial security, doesn't mean we are always good at saving and managing our money. I worry about having enough of something and whether or not I will be able to buy it later. Left unchecked that anxiety can turn into actual hoarding. When I moved from my house to work as a traveling nurse, my brother and mom helped me pack up and get rid of some things. There were jokes for months about how they found twos and threes of everything I own in my basement. You know just in case one gets lost or breaks.
There were jokes for months about how they found twos and threes of everything I own in my basement. You know just in case one gets lost or breaks.
Click To Tweet
Emotional Security
You may have deduced by now that I am prone to anxiety disorders: watching my parents breathe in their sleep, worrying over sustainability, and fretting the small purchases. If you have a six in your life this may be one of the single most important things for you to understand about them.
At least it is for me. You see for me that dollar for the keychain could also buy food. Having food at that moment might not have been a problem, but what if it was several days later? Decisions are always like this for me, and I turn them in my head over and over again for a long time after they are made. I mentioned that I am an ICU nurse. One day my husband and I were off on some adventure. As I sit in the passenger seat staring out of the window, he asks me what I was thinking about. For quite some time been thinking about a patient I had almost two years ago. I was analyzing her lab results, medications, diagnosis, and how I prioritized my tasks with her. I live like this inside my head constantly.
So all of those things are external. So what does it have to do with my internal emotional security? That may be because of my 5 wing. The cold hard logic with the analytics of my six nature has me looking for validation more externally. I already know what I think about myself, but my opinion is naturally bias. Therefore, I find it necessary to know what other people think of me. That combined with the deep-seated need to be loved and secure makes me very vulnerable to toxic relationships.
Relationships as a Type 6
Relationships with a Type 6 can be taxing. I estimate it to be due to the experiences we have had with those toxic relationships in the past. We are quick to build walls. For me, it isn't true to say that I don't trust people. I trust everyone…to be who they are. Who they are is the question. To find out I start with a neutral opinion. I then observe and analyze their behavior. Then I will test them to satisfy my skepticism. I once explained it to someone like this:
People exist to me as multiple possible versions of themselves. As I watch them interact with the environment and people around them, including me, I slowly develop a solid image of who I estimate they actually are.
For me, it isn't true to say that I don't trust people. I trust everyone…to be who they are.
Click To Tweet
You can find me in a conversation playing the devil's advocate for the purpose of observing the other person's reaction. The testing phase also means I keep tabs of how often you conflict yourself or break promises. If you make a comment about something you don't like about me or someone else, I'm likely to mention something not likable about you just to see how you handle it. It can be very hypocritical and annoying. If you tolerate me long enough to get past that testing phase, you might then be turned off by my naturally anxious state, now letting my guard down and constantly looking for validation from you. If you can handle it though, you'll find me to be what some call a six, a loyalist. Naturally good at anticipating problems, we are good caretakers and will stop at nothing to maintain security and sustainability not only for ourselves but for the ones we love.