Reading Time:
8
minutes
Enneagram Type 3
Welcome to the third post in my Enneagram Series: Type 5 vs The Enneagram. This week I am covering my experiences with an Enneagram Type 3. You can find the first week link here and here for week 2 sign up for Enneagram related news from me on the right or more general news on the left.
Series Intro
Hi! My name is Jacob Pannell. I am not an Enneagram expert. I am a me expert, and me is an Enneagram Type 5 with a 4 wing and a self-preservation subtype. Earlier this year, I wrote an article on my discovery on the Enneagram (here). It has since become my most visited article this year. Many people have reached out to tell me how much that article helped them. Some even asked me to write more for them, so I am. After a little time of reflection and research, I realized that I couldn't write about the Enneagram with the substance many of the coaches, authors, and mentors can.
So, I asked myself, "why did my article resonate with people?" I think it resonated because I wrote about me. I wrote about my experience as a Type Five. Many people have trouble connecting with their Enneagram Type because it is talked about in such broad strokes that a natural disconnection exists. I am not talking in broad strokes when I talk about my Enneagram Type 5. I am talking with personal detail. Sure, this limits my approach, but I also think it is much more identifiable. It also makes it easier to take or leave certain aspects of my Type 5-ness.
My experience as an Enneagram Type 5
So, here is the deal: I am going to write about my experience as an Enneagram Type 5 vs. the other Enneagram numbers. This means that both my experience of the other numbers and my own experience is limited. Take it or leave it. It's my truth. Each article will contain an introduction to the Enneagram Type, how we help each other, hurt each other, and a parenting thought. Finally, I want to wrap up by helping you to imagine your relationships in your life. What has my article helped you see, understand, or change within yourself? Imagination is the key to success from these articles because there are no cookie-cutter solutions because there are no cookie-cutter people.
Here is the additional reading for you other Type 5's with the itch to research more.
Enneagram Type 3: The Achiever
Enneagram Type 3's are some of my favorite people. I think that is mostly because my brother is a Type 3. Type 3's like Type 2's are incredibly capable of reading rooms. Unlike the Type 2's they read the room not to serve but to be the best. Type 3's strive to be loved and in the spotlight because they are the best. Their EQ is often super high. It makes them extremely relatable and likable. My brother could sell a vacuum cleaner to a vacuum cleaner salesman. He just has that much empathy and relatability. Now partly my brother is just that way, but Type 3's are often the most beloved number in our culture. They achieve and produce so much in the same amount of time as the rest of us it's impressive.

However, being the best in each and every room has its costs. Type 3's will adapt to each and every group. Meaning eventually they have the greatest temptation to lose themselves to win. Enneagram Type 3's will cut corners because they forget who they are. Sticking in a singular identity limits our ability to win. For a Type 3, losing is unacceptable. It makes them dangerous. It makes them unstoppable.
Hurting
I have often described my brother and me as the unstoppable force and the immovable object. You can imagine the explosiveness when are against one another. That is how we hurt each other.

Type 5: Exposing Weakness
If Enneagram Type 3's strive to be the best at everything, guess who knows they aren't: Enneagram Type 5's. Type 5's can see through the facade of the Enneagram Type 3. We know exactly who is the best and while Type 3's are impressive, it is obvious they aren't. Not only that but they now we are the best at knowledge. We stand as a reminder that they can never be the best. There is nothing that has taken the wind out of my brother's sails like me exposing a hastily thought out idea. I become that immovable object. He can't lift me up because I weigh him down with too much knowledge, nay-saying, and avarice.
My avarice, greed of self, makes it so he can't move. My brother has such a wonderful heart to be with and around people, and I am the opposite. I squashed him so many times growing up. I was greedy and I should have learned from him when we were younger.

Basketball
My brother loves basketball. However, he was the younger and therefore smaller brother for our growing up years. Do you know what makes up for a lack of skill in basketball? Height. I always had at least a few inches until I went to college. Skill-wise he was way better than me. But where it matters most to the Enneagram Type 3's, the scoreboard, I beat him almost every time. He spent hours on his basketball skills. I never let him win. I didn't even want to play because I knew the result already because I had him by inches. 

So, I held him back. I wouldn't practice with him. I wouldn't play with him. We only did what I wanted. I am not saying he would've made the NBA, but I could've been a better big brother. It also typifies our relationship. Until he got bigger, his unstoppable force had no way to overpower my immovable object.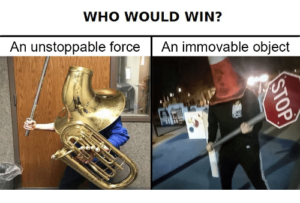 Type 3: Chameleon Effect
One of the things about being an Enneagram Type 5 is loneliness. Loneliness is held in a tension of embrace and fear. Since Type 5's investigate everything before engaging we are not always the best at engaging. It is really difficult to engage a Type 3. Because they change so much they aren't really aware of themselves. Their constant motion makes them difficult to investigate and therefore engage with. I think Type 3's are the hardest for me to build a real relationship with. I can learn the other numbers, but a Type 3, they change too much in every situation. Ultimately, this can leave a Type 5 lonely. The Type 3 is busy fitting in and dominating the competition. The Type 5 doesn't know their place and so we shut down and retreat to ourselves.

Emotional Awareness
I love my brother and I am confident he loves me. I have no idea how to connect with him on a deeper level. Part of that is my just lack of EQ. Part of that is I don't know which version of my brother I am getting. Am I getting the athlete, scholar, businessman, priest, social butterfly, construction worker, etc? I wish I were better at my self-knowledge so that I could build a better relationship, and I wish that I didn't hurt him so much when we were kids even in the passive comparisons made by our parents. I am aware enough to tell there is just a lot of emotions between us, and I have no idea how to cross over reliably.

Type 3's and Type 5's desire respect a lot. My brother and I do that to each other nowadays, but the worst times for us were when we didn't respect the nature of the immovable object and the unstoppable force.

Healing
Imagine what happens when the unstoppable force and immovable object team-up. We are kinda awesome.

Type 5: The Launchpad
Enneagram Type 3's are doers. That means they act without thinking sometimes. If they have a Type 5 in their corner through our immovability becomes a launchpad. We are doing the prep work, the guidance, and the periphery stuff that puts the Type 3 in their natural position, the spotlight. As the thinkers, Type 5's can get into the details the Type 3's aren't willing to, and we can make sure the Type 3's don't cut corners maintaining integrity for us all. Integrity is simply the most energy-efficient path through our world. It is a lot easier to just speak and act the truth rather than remembering and covering lies. Type 5's let this extra efficiency power the Type 3 to crank up that spotlight even more.

The launchpad is also a landing pad. Enneagram Type 5's can see the Type 3's true self when we work together. Type 5's can remind the Type 3 who they are. The landing pad is often just as important as the launchpad. Being a chameleon takes a ton of effort, and they will always need someone to remind them who they really are, so they can rest.

Thinking Before Doing
The Boy Scout's Motto is "Be Prepared." I have become excellent at being prepared. I like to think through as many of the details as I can and plan for every eventuality. When we were younger, this was a boon to my brother and me. Go play at the park – I brought water, or go swimming – I brought towels. Go to a friend's house – I brought snacks. The effects of my planning the mundane stuff was to allow my brother to plan the fun stuff. It allowed him to bring spontaneous fun. I never bring the spontaneous fun. I like to think, and thinking is really only fun for one. If you want to get out and have fun then you need someone to do, and Type 3's are some of the best doers. Enneagram Type 5's do your thinking in a manner that allows others to bring the fun.

Type 3: The Slingshot
In automobile racing, there is a technique called the Slingshot. What happens is one driver gets so close to the bumper of his teammate that he begins to draft off of him. What happens then is the driver in front can then sling him around to gain an even greater burst of momentum. Enneagram Type 3's can be that first driver for Type 5's. Many times Enneagram Type 5's are stuck behind people thinking and thinking and thinking. What we need is to act. We need some extra momentum to sling us around and get us going.

Do not underestimate the cost a slingshot will have for the Enneagram Type 3. This act of humility is an admission they are not the best. In fact, they are making you the best. They turn the spotlight away from themselves, and on to someone else. This is an incredible act of healing to get a Type 5 to actually do something instead of thinking about it because we, Type 5's, often conflate thinking and doing to our own detriment.

Doing after Thinking
Did you know that almost 90% of the fuel it takes to send a rocket to space and back gets used in about the first 20 feet? It is overcoming gravity. I love overcoming gravity, but I don't necessarily pilot the rest of the trip
I am not sure if this is a me thing or an Enneagram Type 5 thing, but I love getting 90% done. 90% means getting everything planned, thought out, prepared and ready. That last 10% is the actual doing. I think it has to do with knowing that I could do it if I wanted to expend the effort, but I get there and think the effort isn't worth it anymore.
My brother thinks that is the dumbest thing about me. He is more than happy to push me through it. He does instead of thinking about it forever. He slingshots me the last 10% to actually make the journey there and back again. That is the gift of an Enneagram Type 3 to a Type 5. Doing the journey instead of just thinking about it.
Parenting: Getting to the heart beyond the behavior
Now, if Enneagram Type 3's are excellent chameleon's to every social situation, you might find yourself with few problems as a parent. What you need to look for then is not the behavior but the motivation behind the behavior. Getting to the motivations and heart takes a lot of time and effort, but it is really worth it with any child. It sculpts their inner being instead of scratching at the surface of things. This is especially important with Type 3's because they can easily modify behavior, but they are hearts are easily corrupted.
Practically, this means you have to talk to your kid often. You have to build a relationship with them early, building trust and safety to talk about real feelings. Relationships are reciprocal, so you are going to have to show your feelings too. Something that I have had to grow a lot in when our first child arrived. Being in touch with your feelings and motivations will allow you to teach your kids how to be in touch with theirs. It helps us sculpt our inner beings (and our child's) with greater effectiveness than simply continue to scratch at the surface hoping to modify behavior.
Imagine
The team-up between an Enneagram Type 3 and Enneagram Type 5 creates a potent combo of integrity, thoughtfulness, follow though, and accomplishment. There can even be fun competitiveness between the numbers. Of course, that competition can quickly devolve. However, imagine the possibilities when you have someone to give you that extra oomph to get to make that transition from thinking into doing. Imagine the possibilities of someone giving you a landing and launch pad. There is a unique synergy between the Enneagram Types that can get a lot done effectively and efficiently.